Friday, March 10, 2006
Update 1.1 on Comcast-Vonage
I got more email this morning from Paddy Link, the Wexler and Walker Public Policy person representing Comcast who was my source for the denial that Comcast was responsible for Vonage voice quality problems. She wrote:
This is posted in the Comcast.net Help Forum:

The rumors in the blogs are completely untrue. Comcast does not block

access to Vonage's -- or any other provider's -- Internet traffic.

We have been working with Vonage to investigate this situation, and they

indicated to us that the problem was an isolated peering issue on their

end, which had nothing to do with Comcast, and they are addressing it.

We are certain that the problem is not an issue on our end.

Comcast does not block access to Internet traffic or Web sites.
She did not provide any specific pointers to these claims, so I went to Comcast.net, clicked the HELP tab, typed "vonage" in the search box and got this: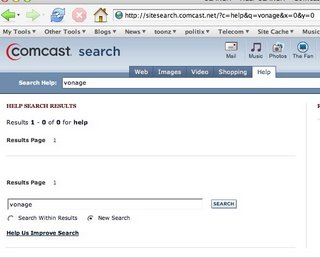 I asked Ms. Link for specifics by return email several hours ago but didn't get any yet. If she replies, I'll track her leads and report on what I find.
Comments:
David,
It is as Paddy says.
When I searched the Comcast Help **FORUM**, the exact result she mentions comes up from a forum entry on March 2.
Paddy should look at this:
again, I am seeing
this problem only from Comcast...
"...incomming caller audio is terrible but my outgoing audio sounds fine to the caller.
...right now secure.vonage.com is totally unreachable on Comcast, but works fine from the datacenter."
With full documentation / illustrations
Post a Comment