Sunday, October 25, 2009
The long tail of live music
Maybe it's just me, but at age 60 I've stopped having fun at big-room music events. For the last decade I've been running on fumes; I've been to maybe three big-room events that were memorable. For two of them, I lucked into great seats. (These were Maurizio Pollini at Carnegie and Rickie Lee Jones with a tour band that definitely had found its groove; the third was Willie Nelson, Ray Price, Merle Haggard & Co., at Radio City.)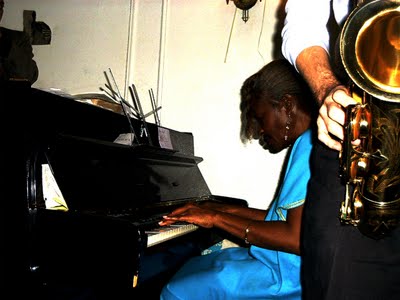 Meanwhile small room music has a much higher hit rate. But nobody goes. If you took all the nights of leisure time in America and threw them into a truckload of crushed rock, you would not find the 100-seat and under concerts until you swept out the dust. If music were conducted by the market's magic hand, small gigs would be Bye-bye Miss American Pie. Homo economicus would never be a musician.
Discontinuities are often where the value is. Earlier this month I went to five small gigs in eight days -- every one of them was its own little gem.
The first gig, on Columbus Day Sunday, was The Asylum Street Spankers at The Fairfield (CT) Theatre Company. The Spankers are an Austin-based neo-Jug Band with tight harmonies, imaginative arrangements, skilled players, a killer sense of satire and a joyful love for their craft. There were 25 people in the room, including the 6-piece band and its entourage. The rest of Fairfield County was closing up the vacation house in Nantucket. The gig began with a tongue-in-cheek announcement to step back, "so the people up here can breathe." It achieved a living room ambience. An audience member bought a round of drinks for the band in the middle of the second set. Audience and band played out the joke until the end; we hooted and hollered and stomped after the "last" number, all twelve of us who were left, and the Spankers came back and did a couple more.
The next gig was the following Tuesday, pianist Rossano Sportiello at the Fishmonger Cafe in Woods Hole. I've
written about Sportiello
before, and I've seen him twice in New York, but this was my first time at one of his locally-famous Woods Hole gigs. (It was my home town. I knew about half of the people in the room.) It was packed, maybe 80 people, for the first set; Sportiello did two long, panoramic numbers. You know the stereotype about how Italians talk with their hands? My jaw dropped watching Sportiello's hands as he played. In his second set, he did a Scarlatti piece, then Chopin, then he kept his right hand classical and brought in some Fats Waller stride with his left, and then . . . I have no words, none. The encore, a duet with his wife, Lala, a singer, "Nice Work If You Can Get It," was perfectly cut, polished and mounted.
The next night I went to a house concert in Woods Hole, by my friend and sometimes music teacher Glenway Fripp's jazz trio, "QuasiModal." Glenway's knowledge of music is astounding; he was making the most improbable piano things work in surprising and sophisticated ways. There were 25 people in the audience. Again, I knew most of them. I caught up with some old, too-infrequently-seen friends at the post-music wine-and-cheese.
The next gig was three nights later at the Riverside Y in the Bronx. This night, Rossano Sportiello shared the stage with two equals, singer and bass player Nicki Parrott, and Jonathan Russell, 14, a current holder of the Daniel Pearl Violin. (Daniel Pearl is the WSJ reporter who was kidnapped and murdered in Pakistan in 2002. He brought his fiddle and his mandolin wherever he travelled. The back story on the Daniel Pearl Violin, with poignant details, is
here
.) The 200-seatish room was about half full. Sportiello was super, see above, but to me the star of the evening was Nicki Parrott; girl could sing, girl could play, girl was charming even when she was rude. (For example, she did her own, "I like big instruments," in which one line was, "They say size doesn't matter but I think it's idle chatter.") Her bass playing was strong, melodic, imaginative, very up-front. Jonathan Russell was a bit tentative, and this made me hold my breath. Was he going to make a big dissonant mistake? Answer: no. Next answer, as he found his way into the music --NO!!! -- once into the middle of a piece this boy was just fine. Very clever three-way interaction with Parrott and Sportiello. By the time he's 16, he'll be awesome.
The next night my wife and I found ourselves (long story) at one of
Marjorie Eliot's internationally famous Sunday afternoon parlor jazz soirees
in upper Harlem. We sat on two of about 75 card-table folding chairs wedged into every crevasse of her apartment. Marjorie not only hosted but also played the piano. Her fingers were long, her knuckles were large, there was a lifetime of music in each chord. She (as did Sportiello) spoke to her audience about the unity of music. To Marjorie, it was also about the unity of humanity and the sharing of joy. "There have been tears, but today we have music," she said. "There's no color thing in here," she explained. There was a newspaper picture of an angry Dr. Martin Luther King, elbow bent, scotch taped to the wall. I won't get the names of the other players right, so let me just describe them. There was a black fellow who sang beautifully, with deep vibrato, in the straight-ahead tradition of Nat King Cole, songs like Autumn Leaves and Autumn in New York. Then he sat down at the piano and a blind white kid came out to play tenor sax, cutting abstract post-bop figures. There was another white tenor player, (
Googling
, I think the guy is Sedrick Chonkroun), who played in a more lyrical, spare, layered style. Marjorie and the younger gentleman shared piano duties. There were two sets. In the middle, humble refreshments, apple juice and candy bars. At the end, hugging kissing and personal words as we left. Wow.
So. Five gigs to remember in eight days. Life should always be this sweet.
[
photo source
]
Technorati Tags: Music
Wednesday, October 21, 2009
Rachel in Woods Hole
Wednesday, October 07, 2009
Meatloaf as content
Ten riskiest foods regulated by the FDA
Tuesday, October 06, 2009
Mood Messages
Nobel Prize honors fiberoptics
New Rules? Not here.
Friday, October 02, 2009
Wrong on the "Exaflood," Wrong on Network Neutrality