Friday, April 07, 2006
Verizon "Commitments"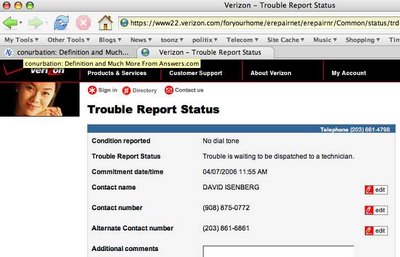 The picture ahows today's Verizon lie.
The first time I saw this screen, it was about 8:30 AM on April 5. It gave a "commitment" date/time of 4/5/2006 at 7:00 PM.
The second time I saw this screen, it gave a "commitment" of 4/6/2006 at 11:59 AM.
On April 5, about 11:00 AM, I got a call on my "contact number" saying that I needed to be at home for the repair to take place, to push 1 if somebody over 18 would be there for the repairperson. I pushed 1. No repairperson. Verizon telephone agents have assured me that somebody was out there working on this problem every day. Nobody has come to my house to check this end of the problem. As far as I know I am in a day-for-day slip, and nobody at Verizon gives a rats derriere.
My primary line is out. What am I going to do, move my house to another telco's territory?
Comments:
How do you contact Seidenberg's office, please? I can't find it anywhere on the net! Phone number, if you have it would be great! Thanks!
i was supposed to get lifeline but verizon put the phone in my wife's' name so i couldn't get it. two years later they told me that they couldn't switch names because i owed a biil. i paid them and it took them 9 month of calling at least four times a day to finally get it switched. then when they switch they tricked me into trying a free trial of verizon fios. no because of fios they can't give m lifeline. now i want to cancel the service and they won't cancel me.
Post a Comment