Sunday, November 12, 2006
Has competition broken out?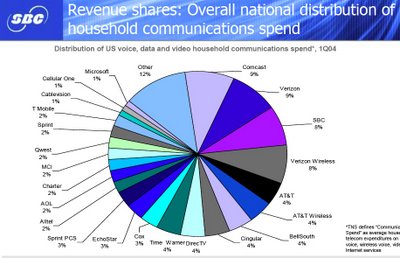 I don't see any dominant players here . . . do you? Looks like the US communications market is doing just fine; what were those net-neut-kooks so worried about? [
Original source
.pdf]
This must be the communications competition that
Herman
Alfred Kahn was talking about
. [Thanks to
David Burstein
for the above correction.]
The real story would be in the first difference -- the relative rates of growth of various companies and services --
but that slide wasn't in this deck.
-- based on the data shown below, imagine how the above pie chart could look in a few years. [
ibid
.pdf]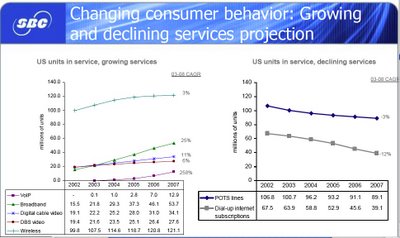 Comments:
It would be interesting to see that first pie chart done on the state level and segmented by market (land-line telephone services, television services, wireless voice services, internet/data services.) On the national level, the telecom market may enjoy vigorous competition, but each individual consumer typically only has a smaller subset of choices available. Is the market truly open if SBC and Verizon have equal market shares of the overall telecom services market, but do not actually compete with each other in any particular region?
Andrew already beat me to the observation. If you look at choices at a micro level, its much more compressed. Let's say the residential wallet is $165-205: $60 cable/DBS video, $45 for voice, $20-40 for broadband), and $45-60 for wireless. Seems to me that each of these buckets is dominated by 2 suppliers, and the same supplier will show up in multiple buckets. That's still oligarchy, and I fear it's getting worse (with the power of the bundle and merger friendly regulation).
Post a Comment