Saturday, December 16, 2006
Joi Ito to Chair Creative Commons
SECOND LIFE, December 16, 2006 . . . At a meeting of the Creative Commons board of directors here today, CC founder and outgoing chair Lawrence Lessig
passed the torch
to new CC chair Joi Ito. Lessig remarked, "
CC's got to be a movement, and a movement has to have leaders, with an 's', and [there is] nobody who I think can [chair CC for the next four years] better than Ito-san.
" Lessig will continue as CC's CEO.
Following the torch passing, Wikipedian Jimbo Wales presented Lessig with a "lawyer-readable
plaque
" commemorating Lessig's term as first chair of CC.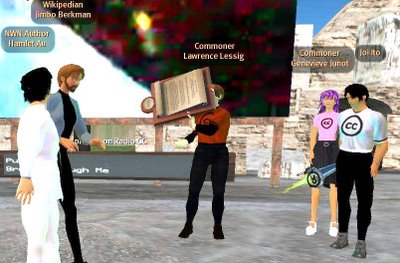 The presentation of the plaque, while Joi holds the newly-passed torch is depicted above.
Creative Commons will issue a press release Monday.
Technorati Tags: CreativeCommons, JoiIto, LawrenceLessig, SecondLife