Thursday, February 01, 2007
Speed Matters! Verizon's FIOS screams!
The easiest connection speed test I've ever used is at
speedmatters.org
, sponsored by the Communications Workers of America (CWA), the union for telco workers. The test is a bit obscured by a confusing web design, with pointers to principles, links to white papers, et cetera.
The button, "TEST YOUR SPEED NOW" is on the right side of the home page, right under "Browse Document Library," and "Join the Movement." It is rendered blandly. It is big enough, but so bland it is hard to see. (Note to CWA: tell the painters' union to make it bright red next time!)
Once you see it, it's simple. You push the button, enter your ZIP code and email, and voila! My results, depicted below, are astoundingly good. Nominally my FIOS is 15 mbit/s down and 5 mbit/s up. The test shows 14.3 down and 4.4 up. (I've had worse at other times of the day, but hey, it's 2PM on a weekday right now.) I am impressed. (My uploads are 3x faster than Japan's prevailing upload speed! Woo hoo!)
I have DSL too. (Also from Verizon.) And it, too, is as-advertised. I get 1.524 mbit/s downloads and .373 mbit/s uploads.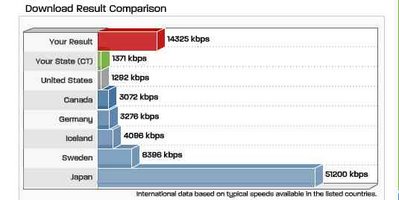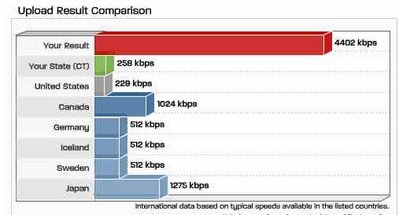 There are only two moderately negative things I have observed about FIOS. (1) The PON architecture, especially the asymmetry, embody built-in assumptions that the telco is boss. (2) Much more on the practical side, often there are often noticeable (or longer) delays at the beginning of a download that appear to be due to slow DNS lookups.
On the whole, though, if you can't move to Japan, get FIOS.
And even if FIOS doesn't pass your house, you can still take the connection speed test at
speedmatters.org
!
Technorati Tags: Broadband, Global
Comments:
the funny thing was my test (1.9 down, .38 up) shows my as 50%/35% of the canadian speeds and of course I am in canada!
I love what they are trying to do but am always frustrated when canada is held out as a paragon of virtue in the broadband battles. it sucks here too.
Post a Comment