Wednesday, July 18, 2007
Boston Globe goes where FCC fears to tread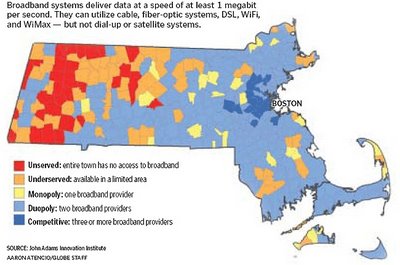 Link to original
.
Now this is useful! Even so, it is incomplete. I'm very familiar with one Massachusetts town, Falmouth, depicted above as having two broadband providers, where friends living in various places around town can only get one service, usually cable.
The FCC is an Expert Agency, you'd think it could do at least as good a map as our regional Red Sox Report.
Thanks to
Jim Baller
for this.
Technorati Tags: Broadband, FCC, Press
Comments:
What does the map look like if you use a slightly more reasonable definition for broadband ... like > 1Mbps upstream..
Post a Comment