Wednesday, December 19, 2007
Announcing F2C: Freedom to Connect!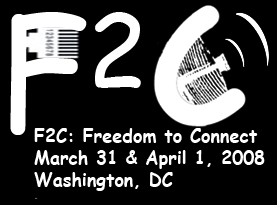 Please come to
F2C: Freedom to Connect in Washington, DC on
March 31 and April 1, 2008.
So far, confirmed presenters include:
* Tim Wu, Professor, Columbia Law School, Author of Wireless Carterphone (2007)
* Tom Evslin, founder ITXC, founder AT&T WorldNet, blogger, author, telecom activist
* Reed Hundt, former chairman of the FCC
* Andrew Rasiej, co-founder, Personal Democracy Forum
* Bill St. Arnaud, Chief Research Officer CANARIE and green-broadband blogger
* Brad Templeton, Chairman, Electronic Frontier Foundation
* Katrin Verclas, former Exec. Director NTEN, MobileActive blogger.
* Robin Chase, founder of ZipCar, entrepreneuse and environmentalist.
Additional speakers will be announced as they're confirmed -- the list is rapidly
growing! The
Freedom to Connect Web site
will be updated as new information arrives.
I'll also post major announcements to
isen.blog
, to stay current, you can subscribe to
the rss feed
.
I'm working to make F2C: Freedom to Connect the best F2C ever. We'll have
great speakers, copious bandwidth, wireless apps for audience participation,
great food, an incredible musician, a friendly, comfortable venue, and
(of course) the pleasure and edification of each other's company.
(If you've been to F2C, you know what I mean.) I'm working on a VERY special
reception for Monday evening; I hope to announce details soon.
Have a good idea for an April 1 event? Write to me ;-)
Special "very early bird" prices are in effect through January 6th.
The prices will go up as March 31 approaches, so if you're coming,
please register now. If you're a government employee working in telecom
or Internet policy, or a member of the working press covering telecom
or Internet, or if you really want to come but find the admission fee
prohibitive, write to me and make your case.
I hope to meet all the readers of isen.blog at
F2C: Freedom to Connect
!
Technorati Tags: Conferences, F2C, F2C2008, Nethead