Tuesday, January 22, 2008
More great stuff at F2C: Freedom to Connect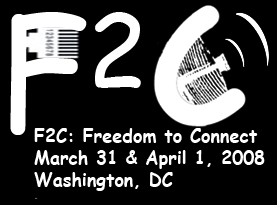 Three announcements today:
1) We've added two speakers to our
already-illustrious program
:
Clay Shirky
, author of the soon-to-appear book,
Here Comes Everybody: The Power of Organizing Without Organizations
, who was recently described as "maybe the finest thinker we have on the Internet revolution," and . . .
Suw Charman
, co-founder of the
Open Rights Group
in the UK, advocates for civil liberties in the digital world, social software expert and
blogger
. [Suw's presence at F2C is supported by
The Mozilla Foundation
.]
2)
Howard Levy
will return to the F2C stage as Musician in Residence, joined this year by jazz guitar monster
Chris Siebold
. These guys are
beyond amazing
. [
Musicians at a tech policy conference? Fair question. No easy answer, but it works. Come see . . .
]
3) Discount for NATOA Seminar Registrants:
NATOA, the National Association of Telecommunications Officers and Advisors
, is holding its
2008 Policy and Legal Seminar
April 2-4 in the Washigton DC area, right after F2C. The program will be of great interest to many F2C participants. If you are registered for F2C, you can register for the NATOA seminar for $125 off the regular price! And if you're registered for the NATOA Seminar, you can get the same discount for F2C! Write to
isen@isen.com
for specifics.
Technorati Tags: Conferences, F2C, F2C2008, HowardLevy, Music