Saturday, August 30, 2008
Double Whammy for Gulf Coast
Update, Sept 2: A very different
trajectory
for Hanna -- much more Atlantic than Gulf. As long as it
tracks inland
, it won't be too bad in New England, where we are, on Sunday. The scientists who build weather models won't be unemployed soon.
It looks like the Gulf Coast is getting set up for a double whammy even closer together than Katrina and Rita were three years ago. Gustav is predicted to come ashore on Tuesday, and Hanna is predicted to follow on Friday. The pix below are from the
European Center for Medium-Range Weather Forecasts
.
Here's Gustav hitting near New Orleans on Tuesday, with Hanna strengthening in the southern Bahamas: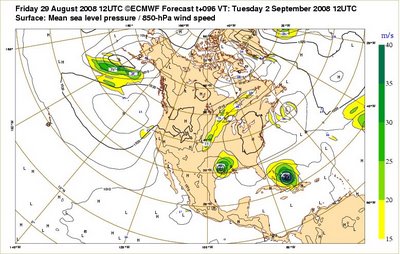 Here's Hanna coming ashore on Friday. The remnants of Gustav are now minor precip in the Great Lakes.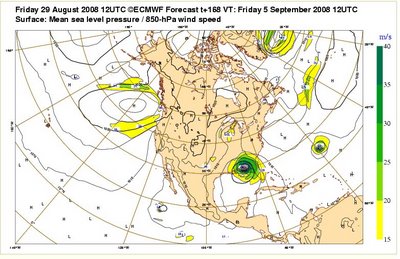 There's a very cool 8-day animation
here
.
Big hat tip to
DotEarth
.
Technorati Tags: Environment, Hurricane
Comments:
David
Good source
Thanks
Added to my inventory of sources
Latest update - you might get visit from Hanna
Others
http://www.wunderground.com/tropical/tracking/at200807_model.html?MR=1
http://www.hurricanetrack.com/Java2/seatemp.html
And US Navy
http://www.nrlmry.navy.mil/tc_pages/tc_home.html
Ciao
Chip
Post a Comment