Thursday, April 30, 2009
Robin Chase, one of Time Mag's 100 Influentials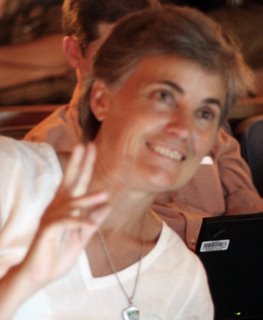 I am very proud of
my friend Robin Chase's recognition by Time Magazine
as one of the 100 Most Influential People of 2009!
The story on Robin, written by one
Craig Newmark
, says, in part,
For years, Robin Chase, a co-founder of Zipcar, has run such a business, in which people share a community-based pool of vehicles. Customers use Zipcar, which rents cars by the day or hour (when public transportation won't quite do the job) and makes smart use of technology like GPS to connect people with autos and trucks that are parked near them.

The Zipcar operation recognizes that people are fundamentally trustworthy. If you trust your customer community, they'll respond by operating in a trustworthy manner, self-policing your operation. Zipcar's success fuels the whole Internet-based sharing culture, and Robin, 50, also uses social media to get car-sharing fans to work together in communities. This implicitly pushes the sharing culture to even more people.
One of the things this tells me is that the rumors of MainStream Media's death are somewhat exaggerated. Way to go Robin! Way to go, Time.
Technorati Tags: Press, RobinChase