Wednesday, October 21, 2009
Rachel in Woods Hole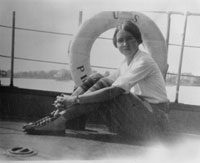 I've known since I was a child that Rachel Carson, the author of Silent Spring, did much of her biological work in Woods Hole. A current friend's father was Carson's station chief at what we used to call, "The Fisheries," today the U.S. Fish and Wildlife Service in the Department of the Interior.
Carson's Silent Spring (1962) is the first book that brought a scientific sensibility about our environment to public attention. The book got action, too. When I see a Great Blue Heron lumbering low across the sky or an Osprey wheel and dive and splash, then struggle into the air with an Alewife in its talons, I silently thank Rachel Carson.
Beth Daley has a
terrific article on Carson in today's Boston Globe
documenting her various stays in Woods Hole, beginning in 1929. What a pioneer she must have been!
One measure of how much times have changed: She died in 1964. Of breast cancer. This is not reported in the Globe article, but local folklorists recount this fact. Back then you didn't speak of cancer in public. Or breasts. She was suffering silently with her illness even as she was writing Silent Spring.
We actually have made progress against the toxic environmental dangers that Carson identified, but we have a long, long way to go from the first revelations of Silent Spring to the abandonment of the idea that flushing the toxins down the drain means they've gone away. More than the Great Blue and the Osprey are at stake if we don't start treating our small blue planet an integral whole.
h/t: Without Google News Local I might have missed Beth Daley's great piece.