Wednesday, February 06, 2008
F2C: Speakers, Sponsors, Agenda, Hotel Deal, Wiki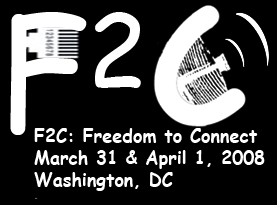 New Speaker!
Jonas Birgersson, the Swedish founder of
Bredbandsbolaget
(The Broadband Factory, one of the first truly broadband, symmetrical residential access services,
SMART Letter writeup here
) and
more recent entrepreneurial Internet ventures
, has joined the F2C roster!
New Sponsors!
Verizon
has agreed to be an intermediate-level
sponsor
of F2C: Fredom to Connect. This is big news because the major carriers usually run the other way when isen.com produces an event.
Kathy Brown
, Verizon SVP, Public Policy Development and Corporate Responsibility, will open the Carbon-Negative Internet session on Tuesday afternoon. Making the Internet Carbon-Negative is critical to BellHead and Nethead alike, regardless of business model, incumbency or locus of control. But Verizon seems to be going further; recently Tom Tauke, Kathy Brown's boss, just
explicitly rejected
AT&T-style network policing, and seems to be embracing a separation between carriage and services. And then there's
FIOS
; without FIOS, FTTH in the U.S. would be a pinprick of light at the end of a very long guide. Bring your hardest questions and deepest insights -- this could be a learning experience for everybody.
More News:
The New America Foundation
will be a sponsor too. Their sponsorship is almost certainly bigger, relative to their budget, than Verizon's.
Michael Calabrese
, Director of New America's Wireless Future Program, will be an F2C speaker.
The Agenda is taking shape, a complete, up-to-date speaker roster, and the emerging agenda are
here
.
37Signals
will be joining F2C's technical support sponsors again this year for its help with
F2C's Campfirenow Group Chat
-- now open for participation!
The
F2C Wiki
is up. You can use it for ride-sharing, lodging-sharing, and whatever substantive contributions you think might be useful or interesting to other F2C participants.
Hotel deal for F2C: $226 a night includes tax, etc. at Crowne Plaza, one of three hotels within walking distance of the F2C venue. This may seem expensive, but
compare
the other
hotels near by
. (Also, no extra Wi-Fi charges!) This rate is not available on line, to book it call Leslie at 301-563-3712, mention F2C.
Admission rates are F2C's Early Bird Rate expires February 15 -- so
register now
.
Technorati Tags: Conferences, F2C, F2C2008