Sunday, April 19, 2009
Lucky, 1995-2009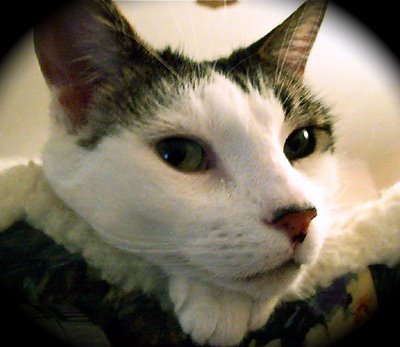 Lucky and I were tight. I was his human. I missed him deeply when I traveled; my wife and I could email, IM or talk, but Lucky and I were strictly Fur2Fur.
We found him on July 4th weekend at Linden (NJ) airport. We heard him asserting, "I'm here, I'm here, I'm here," until Paula had to go find the source. She came back holding an eight-week kitten with enormous ears and an outsized voice. Where he rubbed against her white t-shirt, he left black marks.
We delayed our trip to take him home. I told him he was lucky to be coming to a house with two incomes and no kids. Paula said, "So let's call him Lucky." Lucky from Linden Airport, Lucky Lindy, OK. As he was growing up, when he stuck his chin out in a certain way, it suggested another name, Lester. In public he remained Lucky, but when it was just me and him he was Lester.
We got him to the vet a few days after he found us. He was fine; no worms, no fleas. He used the cat box right his first day home. Our other cats,
Miso
and Keiko, kept their distance. One night we heard screaming. Keiko, the biggest, had kitten Lucky in her mouth, on the floor. She wasn't fooling. She had scared the crap out of him, quite literally. She might have killed him if I had not intervened.
For the rest of his life, Lucky and Keiko had almost-daily spats. He became top cat. When he wanted Keiko's spot in the sun he took it. When he wanted her place on the bed he'd get close and stare, she'd hiss and growl, then she'd move.
I was my top cat's top cat. I'd push him over, rub his fur the wrong way, grab his scruff, and pull his ears. I'd chase him upstairs stomping my feet. He'd scamper ahead and hide. Then when I retreated, he'd come back for more. Soon he was mine.
And I was his. I'd carry him around and show him stuff. He wouldn't sit in my lap, but he'd sit close, touching. When I did a project around the house, he'd pad over, sit and watch my hands and the tools in them attentively. I'd explain, "Now you wrap the wire around the screw." Too bad his thumbs were halfway up his forepaws. When I worked on the computer, he'd watch my fingers, then put his chin on my arm and fall asleep.
About 9 months ago he became lethargic. The vet diagnosed kidney failure. We started daily subcutaneous hydration. He did better. When
I went to Antarctica
for a couple weeks he wasted. I came back to a skinny, tottering, quivering sickly animal. I spent my first three days back crawling on the floor with him, spoon feeding him, scratching his head and pulling his ears. With his human back, Lucky reasserted himself.
That recovery was measured in mere weeks. He, who had used the cat box unfailingly from day one, began to pee outside the box. He'd crouch in a little ball in a full-body shiver. He'd burrow into our bed clothes to keep warm; this was very cute, but not compatible with his urinary problem.
Friday the vet came. Mercifully, it was quick. After the first shot, his tongue stuck out. I said, "Les, put your tongue in." He vomited. We gave him the second shot. The vet said, "Now he's chasing mice in heaven." Nonsense, but the silly image gave me a comforting smile. Lucky's last months had hung heavy.
I pulled his cold ears one last time yesterday and put him in a hole in the garden. He's not watching my fingers as I type this, but there's a warm spot on my left forearm where he used to put his chin.
Technorati Tags: RIP
Comments:
I'll miss his sweet face. He was a 'Lucky' cat to venture into a family such as yours.
Thank you so much for sharing.
He'll hold a special place in our hearts. RIP Lucky.
Post a Comment